Serving the Eastern Cape for nearly 70 years
On the surface, SANCA Central Eastern Cape is a non-profit organisation focusing on the prevention of, intervention in, and rehabilitation of substance dependency.
The organisation has been serving the growing need in the Eastern Cape community since 1952.
An enduring passion for those suffering with addictions
At the heart, however, SANCA CEC is more like a mother fighting alongside her family for its wellbeing. The passion, genuine devotion, belief and excellence with which the organisation functions goes far deeper than what some might imagine at first.
The non-negotiable core values of SANCA CEC are expressed as follows:
Respect for all
Regardless of creed, colour or background.
Confidentiality
We value your journey to recovery. Your story, stays your story.
Integrity
Our word is our bond, and what we say we will do, we will do.
Professionalism
Excellence and best practice are in our DNA.
Service Delivery
Practical and committed, we follow through to the end.
SANCA CEC's head office and Treatment Centre, located in East London, administers its services across the Eastern Cape. Our reach extends as far as Port Elizabeth, Graaf-Reinet, Queenstown, Mount Fletcher, and Bizana.
Our services includes treatment, awareness and prevention interventions within all of the above communities.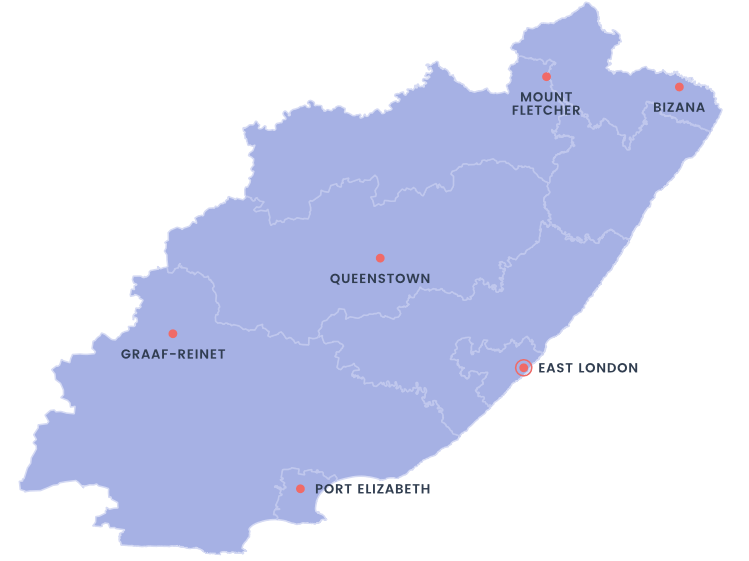 Please Note
All services are dependent on availability of staff, transport and accommodation, and will be billed accordingly.